50 not out...
13 Jul, 2017
5 mins
Reaching 50 people has felt like a significant moment for the business and the start of anot...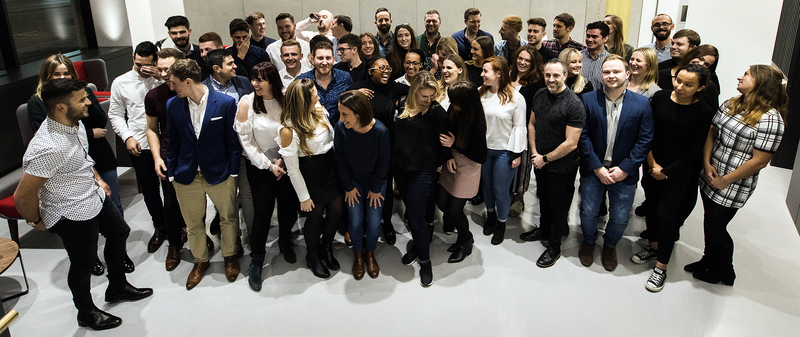 Reaching 50 people has felt like a significant moment for the business and the start of another new chapter in our story. We have a clear plan in place to continue to expand and expect to double in size again over the next 18 / 24 months.
At Sphere, we talk a lot about doing basic things brilliantly and I think that that has served us very well. It's been quite a journey and you forget about most of the challenges and successes as I find myself looking forward. In my opinion, our success has been a story of little, daily victories rather than big ground-breaking moments. That said, we've had many exciting "firsts" and have had to make big decisions regularly. Of course, some set backs too.
What stands out most for me are the people. The people who helped us get the business off the ground before we launched, particularly our non-executive director and our bank manager at NatWest. We're fortunate to have the incredible support of both our fantastic customers who have trusted us to help them hire people for their business, and the hugely talented digital professionals who trust us with their next career move.
The people who have joined Sphere over the years have made the biggest difference. Without people (like every business) we would not exist, so when I look at the future and I think about how we can continue to expand and deliver an awesome experience to our team and to our customers the one thing I know is, above all, how we hire, inspire, manage and treat people inside and outside of our business will determine how successful we are.
There have been numerous factors and reasons why we have been able to expand at the rate that we have yet I thought I would share some of the key actions and decisions that we have taken to do this with you.
Start with a plan and an end in mind
We had a strong plan in place before we launched the business. We had robust finances, a good budget and a clear idea of where we wanted to get to at various milestones and what we needed to do to get there.
Invest in your infrastructures
We started with a good CRM system, website and office space. We outsourced things like our management accounts and credit control so that we could focus on our people and our customers from day one. This really helped an we have always had an infrastructure that would support a business bigger than the one that we presently are.
Build great simple systems and processes that others can adopt, own and improve with you
If helps to create a team ethos, a shared way of being and is critical to scaling comfortably.
Put your people first
Make attracting, hiring, training and retaining people the most important part of your role and in time your management team's role. Your people are by far and away the most important part of your business. Nurture them, challenge them to be the very best they can, encourage them to challenge you and build their careers with them.
Be awesome at what you do
There's a lot of competition out there so make sure that you are much, much better than everyone else at doing this. Do it in a way that most suits your customers and what they most want and most need.
Give the work that you do real meaning
People love and want to do meaningful work that matters.
Focus on the experience of your team and the experience of your customers
If people love working for you and with you then you have become a great business to work for and with. This will help you grow.
Always have plans for future
Involve your people and your customers in these plans. There is no such thing as neutral, we are either moving forward or backward. Make sure that you have a plan to move forward and stick to that plan.
As Sphere approach our fifth birthday I am truly excited about the next five years. Mostly, I am looking forward to the next 18 months as the business doubles in size and provides more services to our customers in more and new territories.
All photos by Hunted.com