"Context, Creative and Attention… How the Three Worlds Collide"
15 Aug, 2022
5 mins
On this week's episode of the Life in Digital Podcast, Ed Steer was joined by Ben Dimond, He...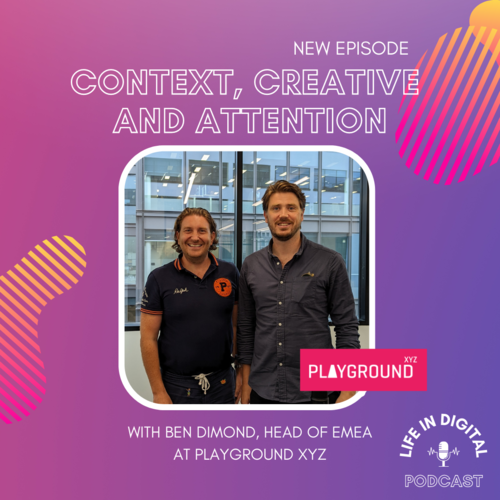 On this week's episode of the Life in Digital Podcast, Ed Steer was joined by Ben Dimond, Head of EMEA at Playground xyz to discuss the attention we pay to adverts, how this can be tracked, and, more importantly optimised for brands and advertisers.
Ben began his media career in an agency, working at Omnicom Media Group, before finding himself drawn into the burgeoning world of ad tech. After senior sales roles at 4th Screen Advertising and Opera Mediaworks, both creative ad tech providers, he joined as the fourth employee of team Playground xyz in 2018.

Now a team of over 85, and consistently recognised as one of the world's fastest growing tech companies by Deloitte, Playground xyz is leading the charge in the adoption of Attention Time as one of the primary metrics in digital advertising.
Today, Ben's role is centred around educating brands and agencies on the importance of understanding user Attention, and its proven ability to improve advertising efficiencies.
Playground xyz are in an exciting period of growth, after an acquisition with GumGum at the end of last year, they recently launched the White Paper "Context, Creative & Attention: Using attention signals as a feedback loop for context-advertisement alignment" and Ben shares on the podcast the advancements in their technology that are coming up.


Understanding Attention
"Brands are interested in outcomes – what they want to do is sell things"
The whole point of an advert is to be looked at, to attract attention. Ben explains how there's no point spending time and effort creating an advert that isn't attracting attention and subsequently producing results.
"Attention Time is a powerful feedback loop for contextual advertising as it is a potent signal of ad relevance and predictive of brand and performance outcomes."
Whilst Playground xyz were successful as a creative agency, as they initially began, this string of questions led them to look more into understanding attention and how to optimise it.
There are many factors that can influence the attention an ad gets - the environment, the placement, the creative etc. Playground xyz began to look into this further in order to, not only help brands create ads, but to also optimise them and attract the most attention and drive sales or reach the goal of the advert.
"There is a strong relationship between context, creative and attention - delivering your ad into the right contexts is key to maximising Attention Time and taking advantage of both Attention Transfer and the Priming effect."
Context – When does this come into play?
"If creativity is the first lever you can pull on, the second is where you put the ad"
Ben explains another aspect that can help optimise the attention of adverts – context. This may consist of what channel an ad is placed on, such as YouTube, social media, a website etc. However, within these channels there's a breadth of content - the viewership of each different context ultimately leads to more (or less) attention of each ad depending on who's viewing it.
"There is a fairly low degree of contextual continuity for brands across different creatives. Finding the best context(s) once and delivering to those for subsequent campaigns will not give the brand the best outcomes - the relationship between context and creative is nuanced and dynamic."
Therefore, picking the right context is really important for a brand to understand what's working for them and what's not – from this information they are then able to change either the design of their ad to target the context it's in, or change the context in which the ad is placed, whatever is most suitable for optimising the ad.
"There is a large opportunity for in-flight optimisation to the top-performing contexts which could drive very significant increases in Attention Time for the campaign."

Illustration of context and different media platforms
"Context, creative and attention… how the three worlds collide"
Playground xyz have recently carried out, what they believe to be, the biggest piece of research into how the three pillars: context, creative and attention, interact. In their research, they examined the contextual categorisation of a given page and the measurement of viewer attention time of a range of creatives displayed on a page.

Over the period of a month data was collected via Attention Intelligence Platform, large-scale measurement recorded:

59 advertisers
683 creatives
2,263 domains
26,006 unique URLs
Over 27 million impressions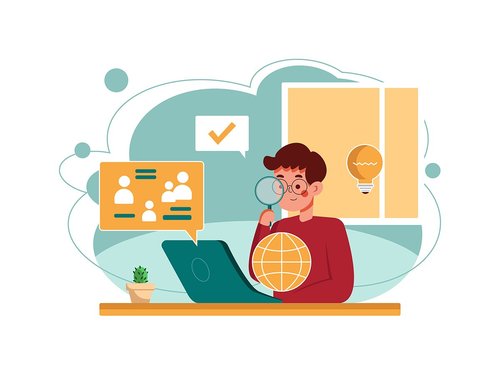 The Future of Attention and Playground xyz
"We're really invested in the activation of attention"
Playground xyz is on a mission to master the art and science of maximising consumer attention, specifically they want to help brands measure and optimise attention on their live campaigns. They aim to carry out another research report further exploring each individual vertical.

Moving forward, they look to develop a product looking at social and social campaigns and how these can be optimised - something the industry has been calling out for.

And could these technologies be applied to audio… time will tell!
We have only briefly covered the content shared in Ben and Ed's discussion on our latest episode of the Life in Digital Podcast. To listen to the episode in full, please visit our Life in Digital podcast page.