Day in the life of a Graduate
14 Oct, 2019
5 mins
All your friends are in recruitment? You still have no clue what they get up to? If you...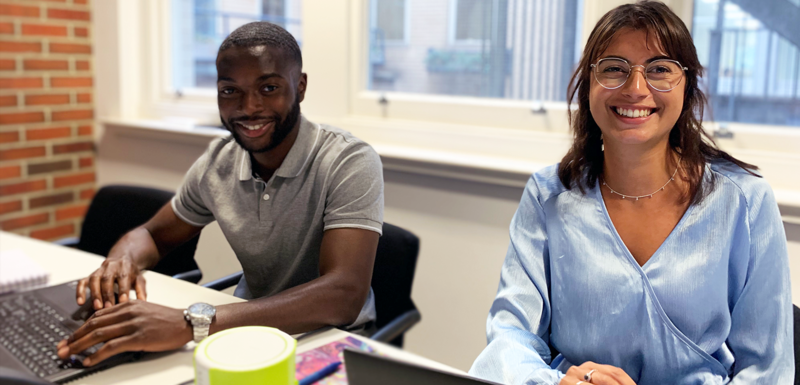 All your friends are in recruitment? You still have no clue what they get up to?
If you read my last post on '6 Common Misconceptions of a Recruitment Consultant', you might be able to guess what's coming next...
So for those who are curious, here's a day in the life of our new starters:
8:30 In the office for breakfast
(we work flexible hours so start time changes depending on when people need to leave in the evening)
Marmite on toast
Coffee
Fresh orange juice
9:00 Team Meeting
Planning for the day ahead
Setting realistic goals: what clients are you working with? What roles are you hiring for? What candidates are you speaking to?
Recruitment is a self-driven role and being responsible for your day is part of that
9:30 Group Training with Jamie (Head of People)
Head upstairs to our training room, typically these are in peer groups
Covering the full recruitment life-cycle; each session covers a specific topic, from how to register a candidate, to how to win new business
It's an opportunity for our graduates to learn another part of the recruitment life cycle but also share their experiences with a peer group that supports one another
11:00 At the Desk
Calling through candidates that are looking for new roles
This is where our relationships are built - understanding our customers and what they are looking for in their career
13:00 LUNCH
We're based in Covent Garden so there's no shortage of places to eat!
15:00 Desk Shadow
Jamie sits with our graduates, shadowing their phone calls and providing feedback
This is where our graduates get to put their training into practice and be supported in their development
16:00 Candidate Meeting
We meet with all of our candidates face-to-face!
It's a chance to develop meaningful relationships with our customers and get to understand their job search better
Whether it's in the office or out for a coffee, meeting the people we represent is important
17:00 At the Desk
Researching clients and area of specialism
Calling and briefing candidates on new job roles
18:00 Debrief with Manager
A moment of reflection:
What went well today?
What will make tomorrow even better?
READ HERE: 'So, you're a Recruitment Consultant?'
18:10 Team Drinks!
We have company-wide wrap up's on Fridays which is an opportunity to celebrate both individual and team successes
Fridays are also early finishes at Sphere (4 pm!), with money behind the bar on the first Friday of every month!
​
Find out what the next few months can look like, HERE.
If you're interested in a role in recruitment, then please contact us at talent@spherelondon.co.uk