Digital Marketing Agency vs In-house Marketing Jobs
15 Mar, 2023
5 min
Candidates often ask us whether they should consider agency or in-house roles in digital mar...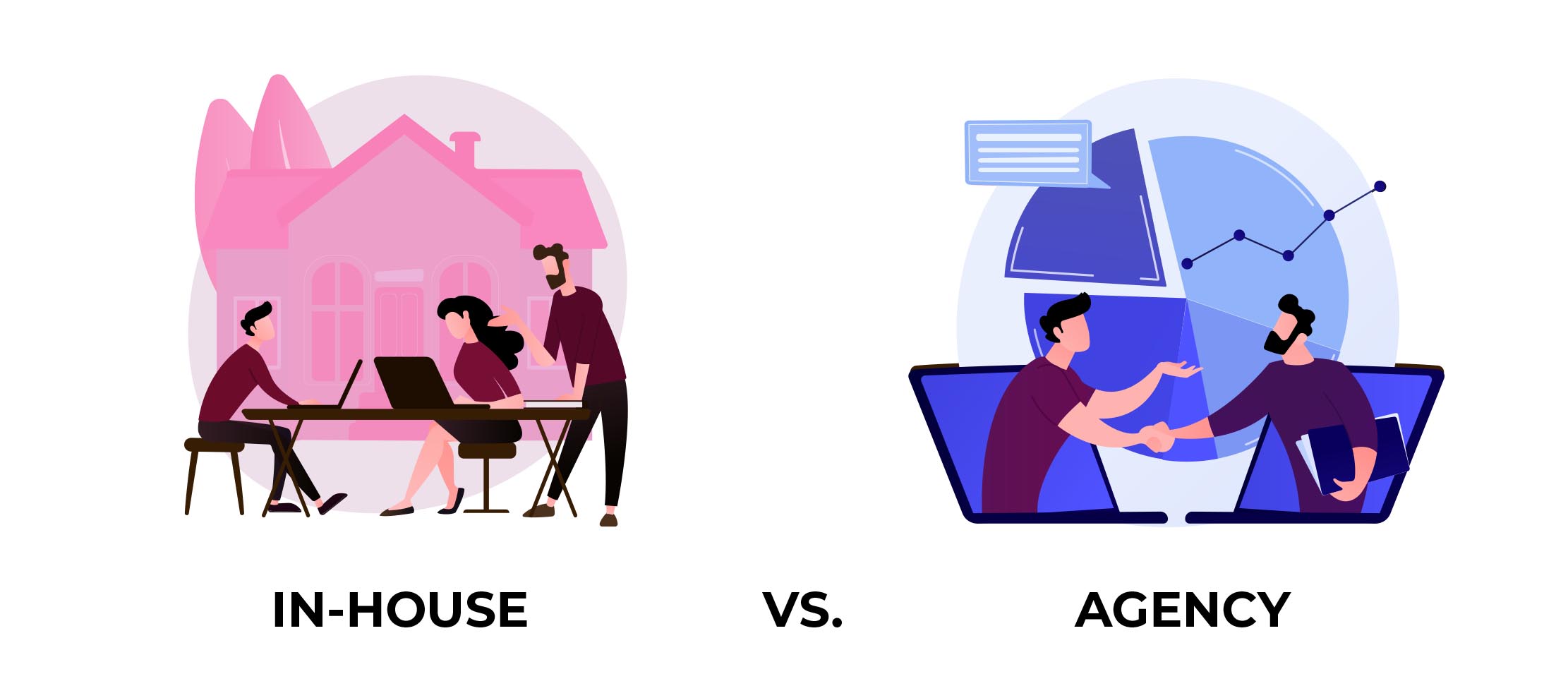 Candidates often ask us whether they should consider agency or in-house roles in digital marketing. Whether you're starting your career or considering a job change, it's important to understand the pros and cons of each type of role.
We'll look closer at what to consider when comparing these roles and discuss the benefits and disadvantages of working for a digital marketing agency versus an in-house marketing team.
We'll also explore the challenges and opportunities of transitioning between agency and in-house roles and provide tips to help you transition smoothly. Whether you're a marketer, a hiring manager, or simply curious about the industry, this blog will give you valuable insights into the world of digital marketing jobs.
What's the difference between in-house and agency?
In-house marketing is where a person is employed by a company and is responsible for its marketing and advertising needs. In this role, you are part of an internal team that works solely for the company, usually marketing a single brand.
The team size is typically relative to the size of the business. Furthermore, in-house marketing teams will normally be given a marketing budget to deploy the marketing strategy across multiple channels. Sometimes this involves working with specialist agencies for branding, PR, or media buying.
Marketing agencies provide outsourced marketing services to other businesses as clients. Agencies consist of teams of marketing professionals that specialise in different areas of digital marketing, such as PR, advertising, social media, influencer marketing, and SEO. In an agency role, you can typically expect to work across multiple clients and projects simultaneously.
What to consider when comparing roles?
When considering any career move, you must decide whether the new role aligns with your skills, passion, and purpose. Research from our 2023 Salary Survey showed that a "poor work environment" was the number one reason digital marketers left their role, with lack of progression and increased pay making up the top three.
When comparing roles, here are some of the key areas to consider:
Company Culture & Values: Learn about the company's culture and values to evaluate whether you would fit in. Who would your manager be? Look at the company's social media profiles to see what working for them is like. Research the company's reputation and review employee engagement and feedback. Look at their company values & mission, do they align with yours?
Career Growth Opportunities: Think about future progression, look for development opportunities and what career growth might look like.
Work-Life Balance: Consider the work hours and whether they offer flexible and remote working benefits. Most people want a hybrid approach to remote working, so it is important to consider the commute and office location.
Office Environment: A welcoming and comfortable office environment is important if you are office-based or hybrid working. Consider where you will be working when you are in the office. Some organisations take a hot desking approach, whilst some can offer a permanent workstation. Furthermore, is there space to collaborate with your team?
Team: Have a look on LinkedIn to see who you will be working with day to day. You want to try and gauge their working styles to ensure a good fit.
All of these factors carry different importance for every individual, so before you start looking - make sure you know what matters to you and what you're prepared to compromise on.
Next, let's look at the advantages of working in-house vs working for a marketing agency so you can make a balanced decision when deciding between roles.
Benefits of digital marketing agency jobs
The most significant benefit to working in an agency is the wealth of experience from other team members to the client portfolio. You'll certainly learn a lot from any agency you decide to join. But here's what you can expect in a bit more detail:
1. Surrounded by marketing experts and specialists
In an agency environment, time and skill is the biggest commodity. So the people you will be surrounded by daily have a wealth of experience you can learn from. Especially if you are early in your career, it can be a great way to get a broad understanding of marketing and all the different skills involved, such as SEO or PR.
As you grow in your career, most agencies will have opportunities for you to specialise and develop yourself by becoming an expert in a particular area you feel you enjoy the most and excel in.
2. Exposure to marketing strategies across multiple industries
Most agencies attract clients across various industries, from property companies to fast-growing tech businesses. Therefore, you will gain exposure to running a wide variety of campaigns. Even if you went to an agency specialising in eCommerce, you could work in everything from apparel brands to food and drink or pet supplies.
3. Collaborative and fast-paced environment
If you ask anyone what it's like working in an agency, "fast-paced" is a popular phrase. Life in a marketing agency is very dynamic, working across different projects and campaigns, so boredom is not something you will have to worry about. You can expect a sense of unity among the team; working closely together on projects will develop you into a communication and teamwork pro.
Disadvantages of digital marketing agency jobs
Agencies are renowned for their way of working, which doesn't suit every personality. Whilst some individuals thrive off a fast-paced environment, tight deadlines aren't for everyone. So here are some things to think about if agencies might not be for you:
1. Tight deadlines and high-pressure
Not everyone enjoys working under pressure, so if you enjoy more structure and at a leisurely pace, you may be better suited in-house. With so many projects working across multiple teams of people, hitting deadlines is vital, so if you struggle with time management, it might not be the right environment for you.
2. Competitive
The thing that aligns everyone in an agency is the drive to deliver results for clients. For some agencies, there are bonuses and financial rewards around it. This means competition internally can be fierce, with everyone striving to produce the best campaigns. Healthy competition is positive, but having your work benchmarked against the experts around you, doesn't suit everyone's personality.
3. Budget constraints & creative direction
Typically, marketing agencies are given a strict budget to adhere to. Some may find this restrictive budget frustrating, as they cannot execute a campaign to its full potential. Agencies also have less control over the creative direction, usually given a brief to deliver against, with the final decisions made by internal stakeholders.
Benefits of in-house marketing jobs
Many in-house marketing jobs allow you to focus on promoting a single brand, which many people prefer. However, larger organisations may have multiple brands which can provide you with some of the variety you get with agency life.
Whether you're working with one brand or multiple, here are some of the pros of an in-house marketing job:
1. Direct Budget Control
As part of an in-house marketing team, you will have much greater influence over how the marketing budget is structured and allocated. You will be directly involved in the planning and execution, usually coordinating efforts with agency partners to deliver against the briefs you create.
2. Strategic Decision Making
Instead of delivering against the brief, you will have direct involvement in the overall direction of the marketing and the campaigns you create. In addition, as an internal stakeholder with more influence, you can offer greater push-back and will have the opportunity to make suggestions and recommendations.
2. Business Exposure
You will have greater exposure to other business functions as an internal team. Typically, you will work closely with commercial teams, such as sales and finance, to discuss budgets and targets. Depending on the size and type of the organisation, you could work with product development, project management, operations, etc.
Disadvantages of in-house marketing jobs
In-house is arguably a safer route into digital marketing, but the biggest thing for an in-house role is whether you are passionate about the brand. You will play a vital role in the route to market, so it needs to be something you feel you can get behind. But, there are some other factors to consider:
1. Undervalued
As one of many internal teams, key stakeholders within the business may not understand the value of marketing and the specific skills required. In smaller teams, this can lead to restrictive budgets and little investment for future development. This poses a different challenge in larger organisations, as you may risk getting lost in the corporate noise and being overlooked.
2. Under-resourced
The main reason in-house teams partner with agencies is to gain additional resources and specialist skills. However, in-house marketers are typically expected to be more generalists working across a wide range of skills, so you may be faced with unrealistic expectations of workload and skill set.
3. Harder to develop skills and explore new trends
Repeatedly providing campaigns for the same brand and target audience can feel restrictive, and you may struggle to generate new ideas. In addition, this environment doesn't lend itself to exploring new trends, so attending industry events and training will be key to development.
Can you transition between agency and in-house marketing jobs?
As a fresh graduate starting your marketing career, it is relatively easy to transition between the two business types. However the main difference is the environment and way of working, so if you really suit one you may not enjoy the other. Typically, people find the transition from agency to in-house easier, as the change in pace and managing multiple clients at an agency can be difficult for some to manage.
Once you are more established in your career, industry experience will be the key to a successful transition. For example, if you are in an agency with a big portfolio of eCommerce clients, that will be an advantage when applying for in-house positions at eCommerce companies.
Deciding Between Agency and In-House Digital Marketing?
We are here to support you if you're looking for more information on digital marketing roles or considering a job change. Just upload your CV, and our team of experts will help you navigate the opportunities and challenges of the industry.
Explore our live jobs to find exciting agency and in-house opportunities. Whether you're looking for a new challenge or simply want to learn more about the field, we're here to support you every step of the way. So, contact us today to start your journey towards a rewarding career in digital marketing!