International Womens Day
18 Mar, 2022
5 mins
Removing barriers to women's inequality, gender pay gaps & unconscious biasesTo kick off...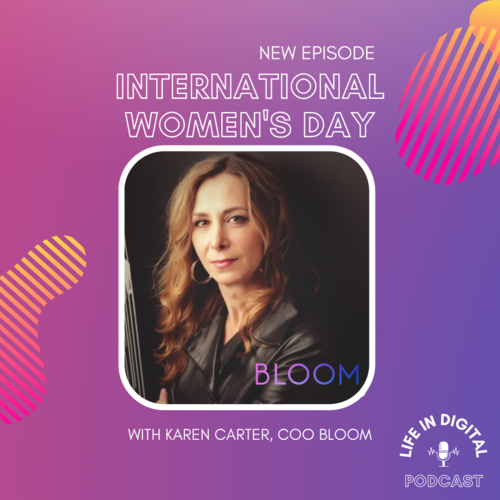 Removing barriers to women's inequality, gender pay gaps & unconscious biases
To kick off our year on the Life in Digital podcast, we have a special episode for International Women's Day: Karen Carter, COO of Bloom (a professional network for women in communications that champion women in all stages of their careers) goes into depth on how industries can tackle unconscious gender biases, barriers women face to equality and shining light on the overall challenges women encounter in the workplace.
Inequality & gender pay
Women have made important gains in representation in the last few years but we are still a long way from equality: "As the impact of the COVID-19 pandemic continues to be felt, closing the global gender gap has increased by a generation from 99.5 years to 135.6 years" (IWD, 2021).
Gender inequality in the workplace can take many forms, such as: unequal pay, disparity in promotions, incidents of sexual harassment, and racism. Often, it presents itself in more nuanced ways, like fewer opportunities for women who are mothers and a higher incidence of burnout in women.
Inequality isn't just limited to unequal pay; Women continue to face barriers to move into leadership positions and are likely to face microaggressions, offensive statements or insensitive questions related to race, ethnicity, gender, and sexual identity:
"Almost 60 per cent of women regularly experience microaggressions at work" (IWD, 2021).
Bloom provide allyships to help support the community:
"We take allyship seriously, how can I be an ally to other groups of women and how can men be a part of that conversation too".
Allyships can be beneficial in supporting women when people can embody self-awareness and be authentic when providing the support. Showing genuine care and interest in conversations when being an Ally can help women feel more comfortable sharing their experiences and issues they may be facing.
Bloom suggests ways of being a better ally is to: Listen, empower and to just start:
"The best allies are those that don't play-act being an ally, they are just innately an ally. They are listening to people and empathising, and actively trying to appreciate what someone might be going through" (Bloom, 2021).
Unconscious biases in the workplace
Unconscious gender bias can exist at every level of an organisation, not just at the office level, or in middle-management. This 'multi-level' discrimination can impact organisations by denying women a voice in key decision-making processes.
Karen shines light on how Bloom is tackling biases in the workplace saying:
"We are calling out bias on inequitable behaviour and making sure that we are doing that at every level, also by challenging cultural and industry barriers."
People can have biases that are either conscious, meaning that they are aware of their own prejudices, or unconscious, meaning that they are not aware of them. There are endless types of biases, for example: gender, race, age, and ability.
Despite the huge gains in female representation over recent years, unreasonable biases, such as that women are more 'emotional' than their male counterparts, can mean they are excluded from decision-making roles across organisations.
Mentoring and exchange programmes are something Bloom encourages as these can help tackle inequalities and help women see themselves as role models and leaders. "38% of senior-level women mentor or sponsor at least one woman of colour, compared to only 26% of senior-level men" (IWD,2021).
How to overcome biases and how can men get involved
"To overcome the unconscious gender bias that's built-in to our brain, we need to question our beliefs and decisions, even when they 'feel' right"
It also helps to educate people on their behaviours and inspiring and encouraging those around us to see what is right from wrong and to start acting on any visible inequalities and demonstrating the negative consequences that can arise from allowing such behaviour.
We have only covered snippets of the content that came out of Karen and Ed's discussion on our latest episode of the Life in Digital Podcast. Listen to the episode in full here.