Maintaining great company culture whilst growing remotely
26 Mar, 2021
5 mins
March 2021 marked 1 year since the WHO declared COVID-19 a global pandemic. The UK, and...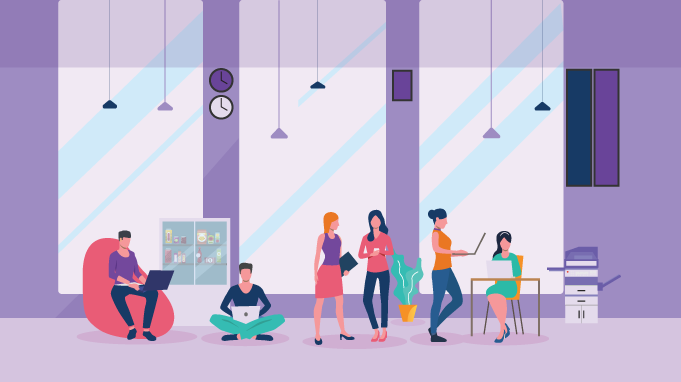 March 2021 marked 1 year since the WHO declared COVID-19 a global pandemic. The UK, and countries around the world, are working their way along the road to recovery and the 'return to normal life' is appearing ever closer on the horizon.
But will life return to normal, or are we entering the next stage of the 'new normal', and what does that look like?
When it comes to the employees of digital and technology businesses, the last 12 months have allowed them to put remote working to the test.
For many, including Picnic, who's Founder and CEO Matthew Goldhill joined Amy Wright in the latest episode of our Life in Digital Podcast, the test has been to keep hold of their cultures and values as they grow their team remotely.


Embedding the company's culture and values early on
This has been an interesting topic for businesses throughout much of 2020 and into 2021, as they've sought to keep hold of what makes their business great.
For existing teams, those relationships with one another and engagement with the company already exist, but it can be difficult for new starters to truly get a sense of what life as an employee is really like.
As Matthew points out in his own business:
"The pandemic forced Picnic to introduce a procedure and processes which we didn't have before, and we've essentially built the company culture as a distributed workforce - maybe 30% of the team I haven't met in person."

Thinking about the first few weeks for a remote new starter has become more important than before, something we touched on in 'Creating Exceptional Onboarding Experiences' on the podcast. Things like having a buddy system, virtual meet the teams, check-ins and support that extend beyond just the first week has proven useful in embedding cultures and company values into new starters.
Equally, it's important that these new relationships and conversations extend beyond just that of work-related topics. Facilitating an environment where people can get to know each other on a deeper level will impact levels of engagement, and as Matthew says, it means that "when you meet up for the first time post lockdown, it won't be a case of nice to meet you, but rather, good to see in you in person."


Breaking down activities into categories in order to maintain engagement
Some of Picnic's success when it came to maintaining its culture throughout the past 12 months can be attributed to splitting the company-wide activities down into different categories.
They broke things down into output meetings and looking back on what the team achieved and want to achieve each day, and into wellness activities designed to remove their employees from totally from work for a period in order to switch off, having
"We have a Slack app which randomly matches everyone in the company with a random person once a week and you meet with them and have a catch up. I think those sorts of things are really important."
Little things designed to engage employees, give them a break from the day-to-day and maintain their relationships outside of work focused conversations have been hugely important in helping to maintain their culture as a distributed workforce.
Retaining great culture in a hybrid workplace set up
There's a lot of talk around businesses keeping their office space as a 'hub', with employees encouraged to split their time between these spaces and their homes. For many, this is a new way of thinking about long-term working.
As we've seen, businesses have not only survived, but thrived when working remotely full-time. With lockdown restrictions easing, and people enjoying the flexibility of working from home, there's an added pressure to marry the two working practices to create a hybrid work policy.
The theory is this will allow companies to retain what was great about both the office-based and remote work environments and fit in with what's best for their employees.
This is the route Matthew and team at Picnic are going down, but he suggests that without real thought, policies and processes it won't be a success:
"We have to think about how can each day work with half the company being at home and half the company being in the office? That's the way we'll get the most work done in the healthy and enjoyable way."
It remains to be seen just how company cultures will be impacted by a change to a hybrid set up and it's certainly a topic that will continue to be much talked about over the coming months.
For more information on Picnic and the work they're doing to help brands tell their story, visit their website: www.picnic-media.com/
Listen to the full podcast episode here.