Meet Sphere Internationals James Johnson
17 Apr, 2018
5 mins
With the team going from strength-to-strength, growing into new countries and helping more c...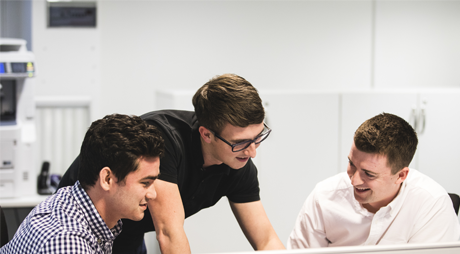 With the team going from strength-to-strength, growing into new countries and helping more customers and candidates we asked James Johnson about why he launched Sphere International and what it's like to work in markets outside the UK.​
What you were doing at Sphere before the International team launched?
I've been at Sphere for 4 years and the bulk of that time was spent on our Ad Ops and Programmatic team focused primarily on UK-based roles.
Joining the business as a Consultant and progressing through to Executive Consultant has meant I've forged strong relationships with candidates and clients which has helped as the International team has grown. They understand the way I work and trust the profile I send them whilst I understand their business and the way they like to work so it's a great place to be.
Why did you decide to launch Sphere International?
Although I had a successful desk and some great clients I was working with, personally, it was an easy decision for me because it meant I got to interact with a wide range of different people from different cultures, develop my professional network and play a massive part in the growth of a new key area for Sphere.
Clients would speak to us about helping with their hiring plans globally and whilst we were always able to work on these roles we quickly recognised that a more consistent delivery was needed to get them the best results.
It goes back to the relationships we have with our clients and we've always believed in client-led expansion. Fortunately, a lot of our clients have international offices so we already knew their proposition and the types of profiles they would need.
We wanted a much more focussed approach to working on global roles and having a dedicated team focusing on hiring Internationally was really the only option.
Are there any differences you've found recruiting in the UK versus Internationally?
The main difference I've found is how varied the particular culture of each city, region and country can be. The way people like to work varies hugely and getting to grips with this quickly has been a fantastic challenge for me.
In-regards to the process, it was very similar. Regardless of the location people enjoy interacting and building relationships with people that are either knowledgeable within the market or that can educate them on industry trends.
What do you enjoy about recruiting Internationally?
I really enjoy the opportunity to travel, meet people and experience different cities and cultures. I have been to Germany four times and Paris three times since launching Sphere International just over a year ago with plans to visit the US later in 2018.
Meeting different candidates and clients in their home cities has been amazing and it's been great fun selling and launching the Sphere story into new markets.
I've also had the opportunity to attend a number of conferences and events helping further my knowledge of the international market and what's going on in the industry.
Where do you think the next key city is?
For me personally, New York is the key city. I know it's really well established but as my role is now North America focussed I'm so excited by the companies out there and the prospect of working with them.
As a team, we're getting a lot of traction in Amsterdam and Berlin as well as in Paris where we've helped a number of companies hire in the last year.
In terms of the 'next key city' for growth, I think it's so tricky to just pick one! There are so many out there with lots to offer digital-savvy businesses and candidates, such as; Munich, Zurich, Stockholm and Tel-Aviv. They're ones we're certainly keeping an eye on.
What does the future looks like for Sphere International?
There's so much for us to look forward as a team in 2018 and beyond. The key thing I think is that we're growing the team around some of our most experienced candidates and have bought our co-founder Niall Phelan into to the team to lead it.
Sphere's UK team have a really successful model and it's something we'd look to mirror on the International side. Building teams around our client demand and candidate specialisms has served us well in the past.
Also, an office in New York, Paris or Berlin would be great and would help with the early morning travel from London!
​
To get in touch with James or the wider Sphere International team please follow the link.