So, you're a Recruitment Consultant?
18 Jun, 2019
5 mins
So, you're a Recruitment Consultant? What can you expect in your first year? One year o...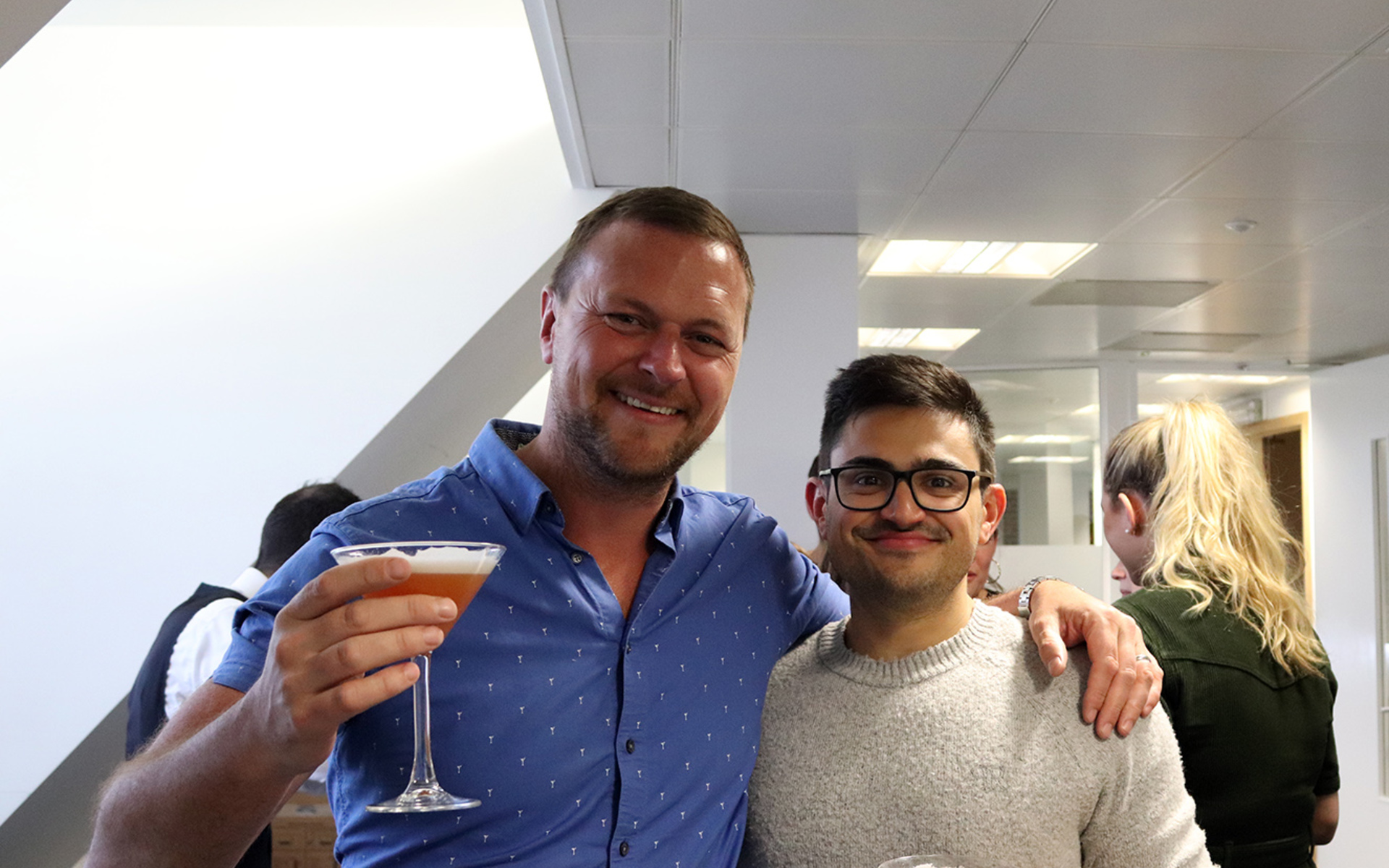 So, you're a Recruitment Consultant? What can you expect in your first year?
One year on, and our 2018 graduates have been hitting milestones: from making deals, getting promoted, and hitting the dancefloor at multiple Sphere parties...
Three consultants, three promotions; I sat down with James Ramsay, Amy Spring and Nusrat Khan to talk about their first year in recruitment.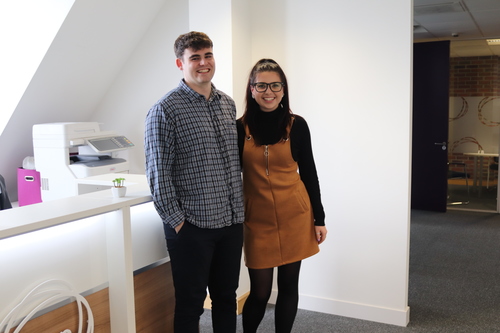 All of you have received promotions less than a year into the role, which is amazing work! How have you managed to achieve that success so quickly?
James –
I received my promotion in month 5! I would say the most important thing is listening to the people around you.
Also, I'd say you need to stick your head down and do the work.
Nusrat –
1. Absolutely listen to your managers and ask loads of questions!
2. Talk, even when you're having a rubbish day. Everyone will always give you that time so don't be afraid to ask to grab 5 minutes. Find people you can talk to. There was a long time where I wouldn't talk about things. Talk about what's going on, even when things aren't happening.
Outside of recruitment training, what helped me get promoted was learning how to organise myself, manage my accounts, meet people, come out into my own, and figure out the best way I work. Once you've recognised your style, things start happening quicker.
The final thing was to be patient.
Amy –
All the training and development that is provided help me to get promoted. I didn't have any sales experience, the closest I had been to sales was a bit of admin at a car dealership!
For me, the most important thing was accepting that not everything will go your way and there will be days when it feels like nothing will happen. When you start, you are focusing on building your network and not putting pressure on yourself, it's about gaining experience, and the deals will follow.
What has challenged you this year? And what have you learned from that experience?
JR –
My biggest challenge was speaking to senior candidates and being more confident in what I was talking about! The best part is that you quickly learn from these candidates the more you speak to them.
Make as many mistakes as you can, so you never make them again. Never be afraid to make mistakes - what's the worse that could happen?
NK –
Since joining, I've learned not to be tough on myself as much!
It's been great having a strong support system around me - we're a team of bubbly women! It's been helpful having open communications with Ed who lets you know that these are targets that will take a bit of time to achieve.
AS –
I'm naturally a control freak so for me, it was learning that you can't control everything.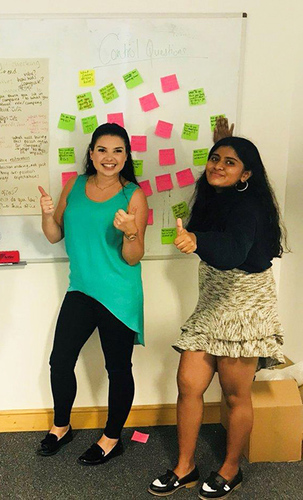 What's been your highlight?
JR –
The business wins I made myself. My first placement was one the business had never made with before which was a proud moment for me.
I also really enjoyed training people. I have completed two training sessions already and am only eight months in! I ran a training session on SASS and Fintech, it was great to be recognised as someone who could already take on that responsibility.
NK –
Getting promoted - my manager announced my promotion at our end of week presentation in front of the whole company which was amazing!
AS –
Company nights out! When everyone's celebrating a great quarter or for Christmas, also the company quiz nights or the Summer party last year, that was sick. The Summer party was a great way to get to know everyone, especially as it was at the end of my first week!
What's something you wish you had known about recruitment?
JR –
That everywhere is different, no two places are the same. I was travelling around London, and it was baking hot, and thought I'm not going to this sixth one [at Sphere] but I'm so glad I did!
NK –
That people are flaky in recruitment and not everything is going to go your way.
It's been great; I love talking to quirky people, pushing my limits, and I enjoy talking to people.
AS –
Take the highs with the lows. I don't think I fully understood how big those highs were going to be and it has been great to learn that the lows become more of a bounce rather than a fall!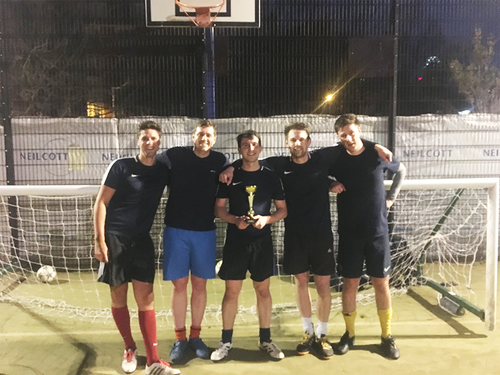 Why was recruitment the right career for you?
JR –
For me, it was having ownership over my own career; you get what you put in. If you want to do a 9-5, that's fine, but here you can see the benefits when you put in the work.
NK –
Recruitment was the right career for me because I'm always around target driven, fun, and ambitious people. I wanted to be somewhere where I could be involved with Account Management and could work closely with clients, which recruitment offers.
Here it's clear that there's no one saying you can't do this because you're a woman, it all comes down to what I can do.
AS –
If you're working hard, you want to be rewarded for it and you can help people find their dream job! - it's really fulfilling.
Women laughing for an International Women's Day photo
What was a misconception you had about recruitment and how has that changed since working here?
JR –
I thought it would a cut-throat, sales environment, ringing bells, and wearing suits. Of course, we celebrate success but it's not cut-throat – we help each other out.
…I don't think I could ever do shirts/ties, that's not me.
NK –
That it would be aggressive salesy people, but my team is full of funny, smart people, and no one is shouty! Everyone is on my wavelength.
AS –
My Rec2Rec told me to be very direct when interviewing so I thought it would be brutal and competitive, but everyone is so nice here! Everyone can get to their goals quicker by helping each other.
How did you find juggling your degree with finding a new role?
NK –
I packed all my interviews into a few days and Sphere was my sixth interview. I was picky about the culture I wanted, and Sphere stood out. My advice is to be patient and try to find a company that will listen to you.
AS –
I tried looking during university but gave up - I thought my brain would explode! I found recruitment within a month of finishing exams.

What questions do you wish you had asked during your interview?
JR –
I would have asked more about the people. Find out how they treat their employees.
NK –
What music do you play in the office…!
I should have asked more people how long it had taken them to get through the different progression steps and what has been the most challenging parts.

AS –
I wish I had asked more about the team and the industries they work in and also the turnaround times on deals. I didn't even know to ask that then, but now looking back, that would have been helpful. I was so excited I forgot to ask.
What's one thing you would change about the role?
JR –
We've introduced flexi-time which has been great but I'd love to get to the stage where I can work from home a bit more.
NK –
If I wanted to change something, I think I would be supported here in changing that. If I wanted to work on other projects, I know I would be able to do it in due time. I want to get really good at my role and then see where I can take it next.
NK –
I'm a pretty happy bunny.
Ok, I would change the trains... I hate trains.
If you're interested in a role in recruitment, please do get in touch! Apply
Here