Unparalleled Growth in Programmatic and OOH with JCDecaux
30 May, 2022
5 mins
"We're seeing unparalleled growth" in the rise of programmatic and Out-of-Home...In our late...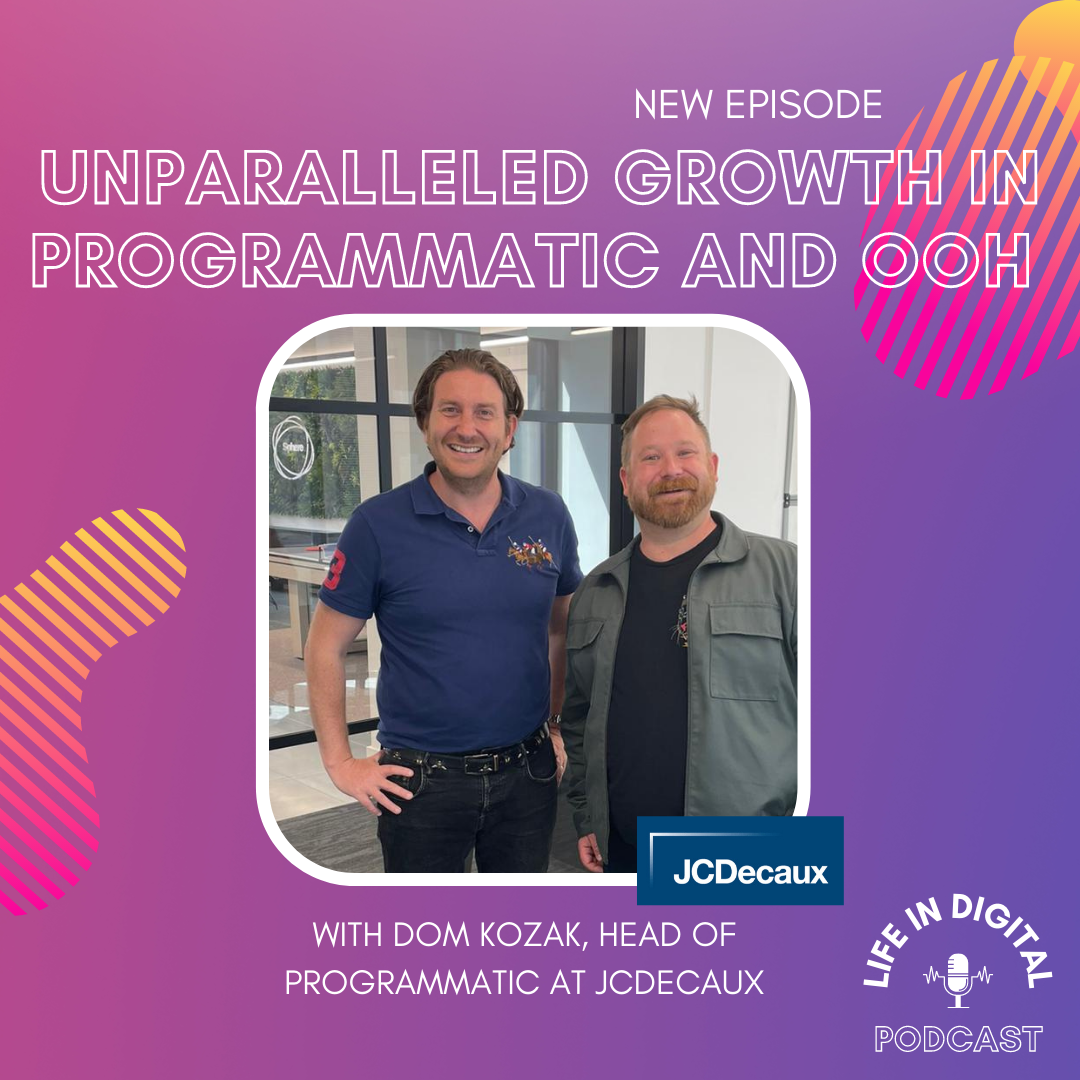 "We're seeing unparalleled growth" in the rise of programmatic and Out-of-Home...
In our latest episode of the Life in Digital Podcast, we are joined by Dom Kozak, Head of Programmatic at JCDecaux, recent winner of the 2022 'Ad Tech Hero' award at New Digital Age's 'NDA Heroes Awards'.
Ed and Dom talk about the importance of relevance and how the future of seeing OOH ads in real time, is right around the corner. We delve into digitisation and how programmatic is playing a vital role in JCDecaux and the wider OOH space.
Programmatic digital out-of-home (DOOH) is growing
"JCDecaux has accelerated its transition to programmatic, making more than 7 billion impressions (eyeballs) a month available to buyers across environments, via multiple demand-side platforms (DSPs)"
Using Automated technology to buy and manage ad spots, brands and agencies are able to cut delivery times down and make 'real time' decisions. It starts to rain, 'trigger' an ad related to this.
We've spoken on the podcast previously about the importance of relevance [listen to GumGum's episode] and the integration of programmatic and OOH is making strides for how campaigns are received by its intended audience.
Data and creative
Dom, having listened to our recent Life in Digital episode with GumGum, agreed that:
"Content, creative and metrics like attention are so important".
JCDecaux using data to find out localised trends; Dom shares how their partnership with Tesco reveals which hours bread sells best and how this data is localised to stores and time.
The importance of creative is discussed across the programmatic and ad tech sectors. Historically, campaigns such as the Ghostbusters campaign at Waterloo Station would have been managed by the 'creative solutions' department at JCDecaux. Now, their attention extends to the programmatic world. Developing ads that provide QR codes, synced with audio, Augmented Reality and how "through programmatic ecosystem you can create immersive, 3D campaigns".


Location, location, location
"Location is the heart of what we do" – Dom Kozak
The location-based advertising market is set to grow by $82.3 billion during 2021-2025, hence it's at the forefront of many advertisers' minds.
Data has become granular; we can where people live and where they go to during the day. Adverts can target a person throughout their journey, increasing its relevance.
Watch the Location Matters webinar here: https://www.jcdecaux.co.uk/location-matters
Traditionally, in the history of OOH, posters took 2 weeks to create and then install. Technology has come a long way since then and Dom shares how "we expect to be real time or within 10 seconds within the next 6-12 months". This means buying advertising space can be done in 'real time'.
The application of data, the ever-changing system and data points that tell a location-based story will benefit not only OOH but other digital channels. Dom envisions a two-screen future – mobile paired with OOH which mitigates the loss of cookies – and creates a user experience based on attention.
Listen to the full episode via our Life in Digital podcast page