Were one of LinkedIns Most Socially Engaged Staffing Agencies, 2018
17 Oct, 2018
5 mins
Sphere Digital Recruitment are absolutely thrilled to announce that we have been named 18th ...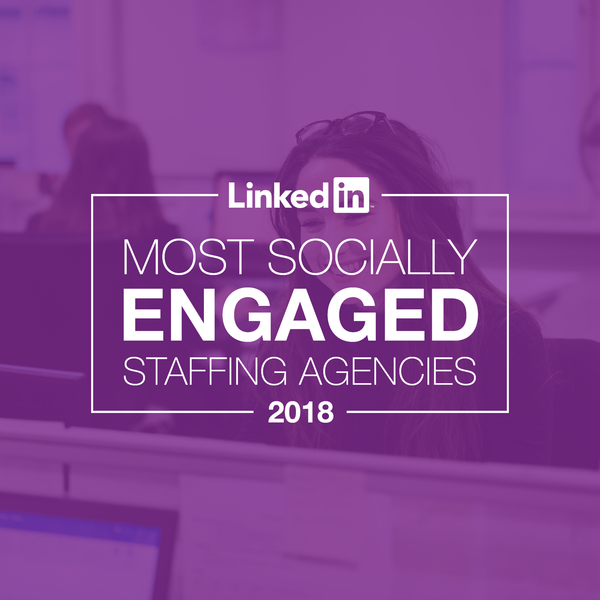 Sphere Digital Recruitment are absolutely thrilled to announce that we have been named 18th on LinkedIn's list of the 'Top 25 Most Socially Engaged Staffing Agencies, 2018'.
More than 38,000 staffing companies were eligible this year and our inclusion in the top 25 is amazing recognition for the work we've done to engage with our LinkedIn audience. To be ranked alongside some of EMEA recruitment's biggest names over the past year and be recognised for delivering great content to our network is a fantastic achievement for us in only our 6th year as a business.
On the award, Sphere's Marketing Manager, Alex Straw said, "Connecting with our candidates, clients and employees is at the heart of Sphere's marketing strategy and we believe this starts with delivering brilliant content. Engaging with our audience through a variety of channels is hugely important for everyone at Sphere and we're delighted to have been recognised for the shift in focus towards a content strategy that adds value!"
Thanks to all our followers as well as all Sphere employees for your efforts in helping us achieve this accolade.
If you don't already, then you can follow Sphere on LinkedIn here. You can also take a look at our website where you find a multitude of exciting jobs across marketing, creative, analytics, sales and programmatic as well as information on how we can help you add talent to your teams.
About the Award
Between September 1st, 2017 and August 31st, 2018, LinkedIn investigated thousands of data points for the recruitment agencies listed on their platform. LinkedIn take into account company and employee reach and engagement, recruiter effectiveness and content marketing power to establish which organisations are "creating the best engagement opportunities and experiences for LinkedIn members."
Full list of winners here