Whats next for AdTech? Forecasts for 2022
20 Dec, 2021
5 mins
Sphere hosted it's first in person event at it's Red Lion Street offices in December 2021!&n...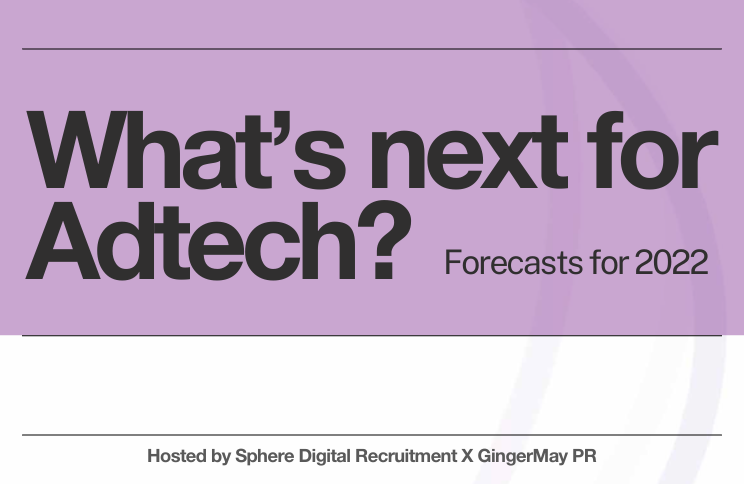 Sphere hosted it's first in person event at it's Red Lion Street offices in December 2021! A huge thank you to our panelists, attendees and to GingerMay for partnering with us.
This was an opportunity to network with other leaders in the ad tech space and gain some invaluable insights from market leaders.


Panel 1: Privacy-first infrastructure; the attention economy; and consumer behaviours
We kicked off with the first panel with what's working well for publishers, and what are the big power plays for next year. Victoria Usher, Natalie Dawson, The Ozone Project, Vic Chappel from Future and Karen Eccles, the Telegraph, shared their insights on:
Content is king
The value of targetable inventory and people paying for quality content
Diversification and who will win in the first party data battle

Privacy-first infrastructure
2021 saw a lot of progress in privacy-first infrastructure and evolving expectations on how identity is managed in advertising campaigns. Apple sped up its privacy focus with its ATT framework, however Google delayed its phase out of third-party cookies to the end of 2023.
Can we redefine how the industry approaches managing identity in a cookieless world?
Is there a risk in waiting for Google's deadline of 2023 and how can we build trust with audiences now?
"The user is at the heart of everything with consent." - Natalie Dawson, The Ozone Project
"Telegraph1 launched 18 months ago and we stopped using any 3rd party data. We have seen increase in yields across all lines since then. Much of previous programmatic was a house built on sand; value not reaching publishers, murky use of data, exploitative tracking of consumers. We have to rebuild the right way - put humans back at the centre of everything and make decisions, build products based on the principles of privacy and compliancy". Karen Eccles, the Telegraph
How important is the development of contextual targeting as the cookie continues to crumble?
Go back to who are you trying to reach. What stage of the purchase path do you want to reach them? The future will be for advertisers able to blend their 1P data with that of their publishers in a privacy compliant way


Panel 2: Sustainability; emerging channel measurement; trust and responsibility
Our second panel was on sustainability; emerging channel measurement; technology and it's partnership with creative; and the development of a responsible media ecosystem.

A big thanks to Julia Hitchman from Good Loop, Nick Welch, Integral Ad Science, Philip Acton, Adform and Adam Ray, 59a - it was a lively panel from the experts on emerging trends.


Emerging channel measurement
Through mirroring evolving consumer behaviour, investment in emerging channels continues: Connected TV, DOOH, and Mobile to name a few.
How should marketers address emerging channels within their media mix?
What questions should marketers be asking relating to proof of performance attached to emerging channels?
With a wider range of media channels to choose from, is automation being used to inform budget allocation decisions?
CTV and DOOH for example do not have standardised measurement approaches.
How can we address the lack of standardisation as an industry?
Trust and responsibility
It's been over 18 months since ISBA released its landmark Programmatic Supply Chain Transparency Study identifying the 'unknown delta'.
What practical progress has there been in relation to industry transparency? Do we now know where the money is going?
Automated decisioning within advertising will continue to grow, but this needs to be matched by safeguards in relation to brand safety, supporting diverse publishers etc.
How should tech companies be supporting the development of a responsible media ecosystem?


A big thank you again to everyone who came to the event and who tried to watch the webinar.
We will be continuing with live events in 2022 so please keep your eyes peeled for more.