Will a four day working week be the norm by 2030?
07 Dec, 2022
5 Minutes
100 firms in the UK have made the 4 day week permanent, will Europe and America follow suit?...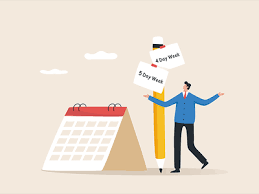 100 firms in the UK have made the 4 day week permanent, will Europe and America follow suit?
Well, in some cases they already are.

The 4 day week model reduces an employee's workweek to four days with no loss to pay or benefits. The hope is that productivity goes up and the workload is still met.
More than a hundred UK companies, employing over 2,600 workers, have now moved permanently to a 4 day week working model since the start of the pandemic, with no loss of pay for employees.
"Nearly nine of the 10 companies involved said mid-way through the trial in September that they intended to continue working on a shorter working week after the pilot. Joe Ryle, director of the 4 Day Week Campaign, said: "We want to see a four-day week with no loss of pay become the normal way of working in this country by the end of the decade."
Who else is trialing the 4 day week?
Belgium

In February 2022, Belgium passed a bill that gives employees the right to work a full workweek in four days instead of five without the loss of salary. They wouldn't be working less but instead have condensed their hours into fewer days.
Iceland
Between 2015 to 2019, Iceland conducted the world's largest pilot of a 35-36 hour workweek with 2,500 people. The study saw a significant change to employment, with close to 90% of people reducing their hours but are yet to adopt a four day work week.
New Zealand
Hailing a trial for a shorter workweek are Univeler; 81 employees are taking part in a year long trial of the 4 day week at full pay.
"Our goal is to measure performance on output, not time. We believe the old ways of working are outdated and no longer fit for purpose," said Nick Bangs, Managing Director of Unilever New Zealand.
What issues could face businesses adopting a 4 day week?
Customer-facing businesses who don't want to cut back on opening hours will have obvious disadvantages to a 4 day week and how to plan work schedules around this.
Fewer hours means less time to get things done; Although there is evidence that 4 days increases productivity until these trials are shown over longer periods of time, this is yet to be a concrete conclusion. Asking people to meet the same targets, particularly in a sales or target-driven environment, is a tough sell to employers and employees.
There are some professions where the 4 day week isn't currently feasible - teachers, nurses and front-line NHS staff who are in short supply or need to match the schedule of their students.
What are the benefits?
Findings from 4 Day Week Global reported that the trial in the UK, the largest study to date, showed no productivity loss and freed up employee personal time and improved well-being.
88% of respondents stated that the 4 day week is working "well" for their business at this stage in the trial.
46% of respondents say their business productivity has "maintained around the same level," while 34% report that it has "improved slightly," and 15% say it has "improved significantly."
On how smooth the transition to a four-day week has been (with 5 being extremely smooth and 1 being extremely challenging), 29% of respondents selected 5, 49% selected 4 and 20% selected 3.
86% of respondents stated that at this juncture in the trial, they would be extremely likely and or likely to consider retaining the four-day week policy after the trial period.


Interest is growing
According to a survey by cloud-software vendor Qualtrics, 92% of workers across America are in favor of the shortened workweek, even if it means working longer hours.
Indeed, one of the world's largest recruitment platforms, cited that 51% of large companies with 500+ employees in Canda would be "likely to implement a 4-day workweek".
With the rise of new and improved technologies and an increasingly burnt-out workforce, the pressure for a better work life balance is leading the way.

Traction is slowly but clearly gaining traction across the world but whether or not this will be adopted by governments, we are a long way off, but if campaigners like the 4 Day Week Campaign have anything to say about it, the future of working life will come round within the decade.
Such changes have happened before. 6 day weeks were routine in the US, the UK and Europe until the beginning of the 20th century. Famously, Henry Ford increased productivity in 1914 by cutting down to an 8 hour day while doubling wages.
Do you see a 4 day week becoming the norm by 2030? Share your thoughts with us - hello@spherelondon.co.uk