Remote interviewing Top Tips from a Recruiter
16 Feb, 2021
5 mins
Prior to 2020, agencies and the majority of businesses in the digital sector would typically...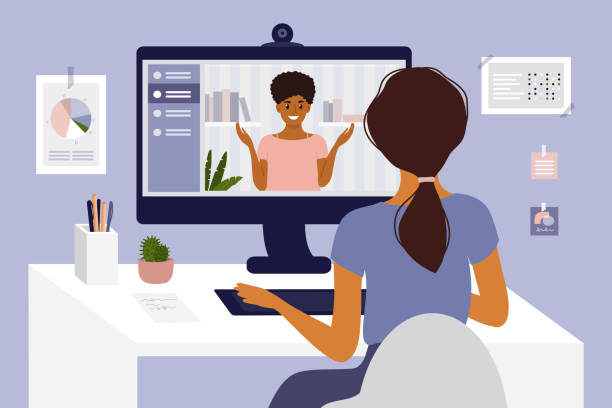 Prior to 2020, agencies and the majority of businesses in the digital sector would typically interview in person for at least one stage, now everything is all remote for the most part. How does this impact your job search?

We've pulled together some helpful information on how to get the most out of your remote job search!
Not visiting the work-place:
Remote interviewing means you don't get to see the offices, or feel the environment – agencies have a buzz and you can usually see the space you'd be working in. Ask about this! What are the agencies like? What facilities are there? Is there music on? Are there break out spaces? Do you hot desk? How many days will you be expected to be in the office?
Another important factor is to think about their location - it's easy to dismiss this when interviewing remotely. What will the commute be like for you? When restrictions allow, we always recommend doing the 'commute' to see how long it takes, and how you feel about it.
We will be spending less time in the office, but it's equally as important you know what to expect from your work environment! Do you like a quiet office? DO you like an office where they have music playing and a hot-desking approach? It's important to get an understanding of what to expect, so you can work out if it's an environment you'll be comfortable, and productive in!
Preparing for video interviews:
Video calls seem so straightforward, but preparation is key, as to with any interview! Making sure you're prepared with the tech you need, you have the link, good lighting, and a quiet space (as much as possible!) are all vital for ensuring the interview will run as smoothly as possible.
15 minutes before, get settled, open the invitation up so you have the link and will be on time to log in. Make sure everything is connected, and your camera, microphone etc are on. Ensure you have enough battery or keep your device plugged in! These might seem basic, but it's so easy to miss something, and always better safe than sorry.
Make sure you have any presentations ready and open to screen share, and you have practiced/researched how to do this on the platform you're using ahead of time. It's always a good idea to send this to your interviewer beforehand, just in case.
A bonus is that can have any notes on the screen or table during a video call – this could be any questions you want to ask or key achievements you want to highlight about your experience that you don't want to forget.
A big plus point to video interviewing is that you won't have to rush across town to make it to your interview, you don't have to move at all! You can settle in your own space, and ensure you're comfortable and prepared ahead of time.
It's all about trying to control the variables you can so you don't get flustered and put any unnecessary pressure on yourself!


Top tips
Always put your camera on! You wouldn't be able to not show up to a face-to-face interview, so please always turn on your camera so you can meet your interviewer. This will also help read their body language, and see when they're finished talking, which is a little trickier over the phone (always leave a little pause!).
Prepare lots more questions – you won't get to walk through an office, past a team, go for a drink to meet the team, etc, so ask about the nuances of team and company culture or anything else that is important to you.
Wear something smarter than lounge/activewear! You wouldn't show up to an interview in a hoodie, so please make sure you're appropriately dressed for a video interview. A 3-piece suit is not required but please ensure you're appropriately dressed and groomed and the person interviewing you can see you have made an effort and prepared accordingly!
Wherever possible, choose a place with the most stable internet connection, and ask people you live with to give you the time you need – we all know working from home comes with its quirks, but try wherever you can to give yourself the best chance to avoid unnecessary interruptions.


And finally... good luck!
We hope these tips will help you to get the most out of remote interviewing. For more information on this, or roles in planning and buying, programmatic, and ad operations in agencies, please get in touch!

Email me amys@spherelondon.co.uk
Amy Spring
Senior Consultant