5 Most Popular Digital Marketing Jobs
13 Mar, 2023
5 min
As businesses embrace digital technologies, the demand for digital marketing professionals g...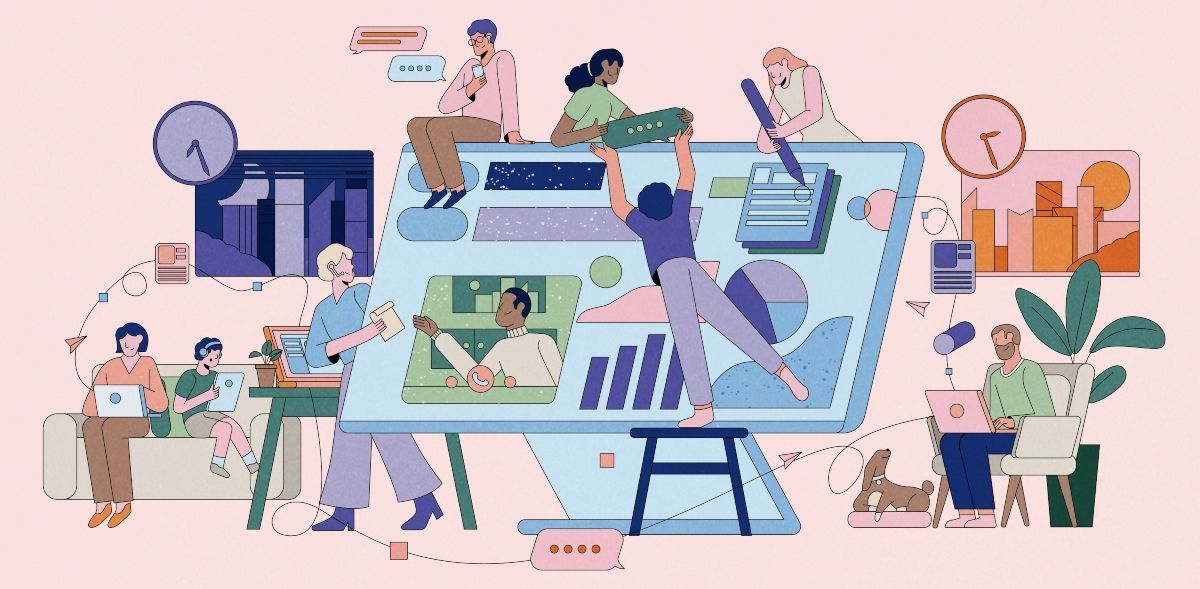 As businesses embrace digital technologies, the demand for digital marketing professionals grows. But what exactly is digital marketing, and is it the right career path for you? We'll explore the industry, including its role within a business, and discuss the various job opportunities in this exciting and innovative field. From entry-level to strategic roles, we've highlighted the top 5 jobs and provided insights into the contract and freelance market for digital marketing professionals.
We'll also share tips on how to get started in this dynamic industry, whether you're just starting out or looking to make a career change. Whether you're a marketer, a business owner, or simply curious, this blog will give you valuable insights into what a career might look like. So, let's dive in and explore the fascinating world of digital marketing.
What is Digital Marketing?
Digital Marketing, also known as online marketing or internet marketing, describes the promotion of brands to potential customers using digital platforms and communication.
Any marketing involving digital communication can be classed as digital marketing. The most common campaigns use search engine marketing (SEM), direct emails, and social media, but they can even include digital billboards as out-of-home advertising (OOH).
Is Digital Marketing a Good Career?
Digital marketing is a dynamic field requiring various skills and qualities. It is a great career if you are creative and analytical and possess excellent communication skills and a drive for success. Furthermore, to succeed in a digital marketing role, you must think outside the box, interpret data, navigate different digital platforms, collaborate effectively, prioritise tasks, and ultimately achieve results.
As digital marketing rapidly evolves with the emergence of new platforms and technologies such as AI, a successful digital marketer needs to be able to adapt to these changes to stay ahead of the competition.
The role of Digital Marketing within a Business
Digital marketing has revolutionised the way businesses operate and communicate with their customers. Through digital marketing, brands can target customers in specific locations, languages, and interests. Its impact and the specialist skills involved have led to the rise of digital agencies that solely exist to offer these services directly to brands as external suppliers.
Tech companies rely heavily on digital marketing to generate leads, establish thought leadership, and increase brand awareness. For eCommerce and DTC brands, they can target specific audiences with personalised content and improve their customer experience. Tracking, monitoring, and optimising campaigns for ROI is a vital aspect of digital marketing. Digital marketers need to measure the success of their campaigns and adjust their strategies accordingly to achieve maximum ROI.
By providing relevant content and engaging with customers regularly, brands can build strong relationships to increase customer retention and loyalty.
5 Most Searched Digital Marketing jobs
The world of digital marketing is filled with opportunities, and you can take many career paths. To help you navigate the job titles better, we've broken down the top 5 most-searched-for jobs in digital marketing.
1. Digital Marketing Manager
A digital marketing manager is responsible for developing, implementing, and managing marketing campaigns that promote products or services across all digital channels. Digital marketing managers collaborate with other departments, such as sales and product development, to ensure that all marketing efforts align with business objectives. They possess excellent analytical and problem-solving skills, are creative and innovative and have strong communication and leadership abilities to manage teams effectively.
Most in-demand skills for Digital Marketing Managers
Data analysis and interpretation: Experience with tools such as Google Analytics, Adobe Analytics, and Excel.
Search Engine Optimisation (SEO): A deep understanding of SEO and its impact on website ranking and traffic. They should be familiar with keyword research, on-page optimisation, link building, and technical SEO.
Content marketing: Experience developing and executing successful content marketing strategies. They should be skilled in creating compelling content for blogs, social media, email marketing, and other digital channels.
Social media marketing: Managing social media accounts and creating an engaging social strategy that spans multiple social channels such as Facebook and Instagram and emerging platforms such as TikTok.
Paid advertising: Experience with paid advertising platforms such as Google Ads being able to plan campaigns, monitor metrics and adjust strategies to achieve maximum ROI.
Project management: A digital marketing manager needs to be able to manage multiple projects simultaneously and prioritise tasks effectively, and work with stakeholders across the organisation.
Digital Marketing Manager Earning Potential
Entry Level: £23,500 Annual Salary | £240 contract day rate
4 years experience: £35,000 Annual Salary | £310 contract day rate
Data from Sphere 2023 Salary Survey
2. Content Specialist
A content specialist will define and implement the content strategy, creating engaging and high-quality content, optimising it for search engines, and promoting it through various channels. They will also measure the success of their content and make data-driven decisions to improve performance. Communication and collaboration skills are essential for content specialists, as they work closely with various teams across the organisation to understand their needs and translate them into effective content.
Most in-demand skills for Content Specialists
Content Strategy: A content specialist needs a strong understanding of content strategy, including target audience identification, content ideation, planning, distribution, and promotion.
Copywriting: Excellent writing skills that include defining and adopting different writing styles and tones. They should be able to write clear and engaging content across various channels that resonate with the target audience.
SEO: Create content for search engines by conducting keyword research, creating meta titles and descriptions, and implementing best practices for on-page SEO.
Visual Content Creation: Basic graphic design skills to create visual content, such as infographics, images, and videos that support the written content.
Analytics: Measure the success of content using tools such as Google Analytics, SEMrush, or similar platforms. Content specialists should know how to adjust the content strategy based on the insights and data provided.
Content Specialist Earning Potential
Entry Level: £23,500 Annual Salary | £150 contract day rate
4 years experience: £35,000 Annual Salary | £250 contract day rate
Data from Sphere 2023 Salary Survey
3. SEO Specialist
An SEO specialist is responsible for driving organic traffic by optimising a website's content and structure to increase its visibility and keyword ranking in the search engine results pages. They work closely with the web development teams to ensure the website is optimised for search engines and meets the target audience's needs.
Most in-demand skills for SEO Specialists
On-page optimisation: Including keyword research, meta tags, URL structure, and internal linking.
Technical SEO: Optimising the technical aspects of a website, including site speed, mobile-friendliness, site architecture, and crawlability.
Analytics: Using tools such as Screaming Frog, SEMrush, and AHREFs to track and measure the success of SEO efforts.
Content creation: Creating high-quality, keyword-rich content that aligns with user intent.
Link building: Knowledge of link-building techniques, including guest blogging, broken link fixing, and outreach strategies and campaigns.
SEO Specialist Earning Potential
Entry Level: £23,500 Annual Salary | £240 contract day rate
4 years experience: £35,000 Annual Salary | £300 contract day rate
Data from Sphere 2023 Salary Survey
4. Email Marketing Specialist
Email marketing specialists, or CRM marketers, create, manage, and execute email marketing campaigns to reach and engage with new and existing customers.
Most in-demand skills for Email Marketing Specialists
Email marketing software: Familiarity with email marketing platforms such as Mailchimp, HubSpot, or similar software to create and send campaigns.
Copywriting: Ability to write compelling copy for email marketing campaigns, including subject lines and body copy.
List management: Knowledge of email list management best practices, including segmentation, list hygiene, and GDPR compliance.
A/B testing: Ability to conduct A/B testing to optimise email campaigns and improve engagement and conversion rates.
Design skills: Basic graphic design skills to create visually appealing email templates and images.
Email Marketing Earning Potential
Entry Level: £23,500 Annual Salary | £230 contract day rate
4 years experience: £35,000 Annual Salary | £325 contract day rate
Data from Sphere 2023 Salary Survey
5. Social Media Manager
A social media manager is responsible for a company's social media accounts and creating a strategy to increase engagement, promote the brand, and drive business growth.
Most in-demand skills for Social Media Managers
Social media platforms: Knowledge of popular social media platforms, such as Facebook, Twitter, Instagram, LinkedIn, and TikTok.
Content creation: Ability to create engaging and high-quality content, including text, images, and videos, that resonates with the target audience.
Social media management tools: Familiarity with social media management tools and social listening tools, such as Hootsuite, to schedule and publish content across multiple platforms.
Analytics: Understanding of analytics tools, such as Facebook Insights and Google Analytics, to track and measure the success of social media efforts.
Paid Social Advertising: Knowledge of social media advertising strategies, including targeting, budgeting, and ad creation.
Social Media Manager Earning Potential
Entry Level: £23,500 Annual Salary | £220 contract day rate
4 years experience: £35,000 Annual Salary | £300 contract day rate
Data from Sphere 2023 Salary Survey
Contract and Freelance Market for Digital Marketing
The digital marketing contract and freelance job market continue to thrive, with many professionals opting for the flexibility and diverse projects that this type of work offers. However, research shows challenges, such as changes to regulations like IR35, which 15% of freelancers cite as the biggest threat to their careers. The average contract length for marketers is 6 months or more (46%), with the next largest group working on contracts that are 3-6 months long (37%). The average wait between roles for contractors and freelancers is less than one to two weeks, indicating a high level of fluidity in the contract market.
Our 2023 salary survey revealed 28% of freelance digital marketers work as limited companies, 24% work as umbrella companies, 20% work as sole traders, and 12% work as PAYE employees.
Digital Marketing Consultants
To become a digital marketing consultant, experience is essential. Most consultants start their careers by gaining experience across various digital marketing roles in-house or at an agency. Most consultants acquire additional certifications in specific areas of digital marketing to enhance their skills and knowledge. Most importantly, successful consultants have built a portfolio of successful digital marketing campaigns and developed a network of industry contacts.
The most in-demand skills for a digital marketing consultant include search engine optimization (SEO), pay-per-click (PPC) advertising, social media management, email marketing, content marketing, and data analysis. Strong communication and project management skills are also important.
How to get into Digital Marketing
There are many routes into digital marketing, from a university degree to industry apprenticeships and accredited marketing qualifications from the Chartered Institute of Marketing (CIM).
However, you don't have to spend years studying. You can develop your skills by through specialist online courses. Here are some of the best free certifications to make your CV stand out from the crowd:
Entry-level positions may include marketing assistant, social media coordinator, or content creator. Our Future Talent programme matches recent graduates, school and college leavers or those with one year's experience with entry-level roles in some of the most exciting and innovative companies across the UK. We work with leading brands, agencies, and start-ups, helping them to add graduate and intern talent to their teams.
Finding your next Digital Marketing Job
If you're considering a move to take the next step in your career, you're not alone. There are so many avenues to export and specialise in, in fact, 72% of those working in digital marketing have considered specialising in a new role for increased pay.
Our 2023 salary survey highlighted that job seekers in the digital sector are most likely to find their next role through a recruitment consultancy, with 33% of respondents reporting this as their preferred method. LinkedIn is the second most popular channel, with 26% of respondents finding their last role through the platform, while personal networks account for 18% of job seekers' success.
At Sphere Digital Recruitment, we supply top-tier digital talent to B2B and D2C technology platforms, agencies, brands, media owners and publishers. Speak to our team today or drop off your CV.